The cyber security industry is vast, with companies offering all sorts of services which often, to most of us, can be confusing. It's hard to know what solution is right for your business and whether you're even getting a good deal with it.
With cyber security experts now predicting the cost of cybercrime in 2025 to reach $10.5 trillion, it's never been more important to start investing in cyber security for your business. It's a daunting task if you're just starting out, so we've put together a list of the top 10 UK cyber security companies.
Top 10 UK Cyber Security Companies
---

Best suited to: Small, medium and large businesses
Offerings: Data Loss Prevention, Endpoint Protection, Web and Email Security
Operating from offices all over the world, Clearswift offers a variety of cyber security services but specialises in data loss prevention for email, web and cloud applications. These preventative tools are designed to protect data whether it is located internally or externally and stop data leaks from happening.
Clearswift's DLP solutions include Adaptive Data Loss Prevention and Endpoint Data Loss Prevention. These work to ensure a company's data is protected from malicious threats while also keeping them compliant with data privacy and protection laws.
Featured Product: Secure Email Gateway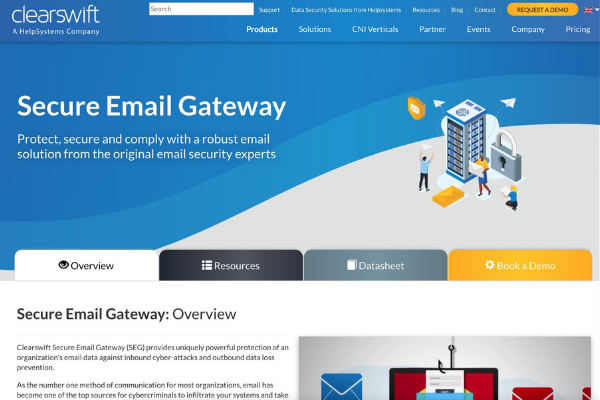 Best suited to: Larger 100+ seat organisations
Offerings: Cloud Security, Endpoint Protection for Mobile and Web, Firewalls
Sophos is a globally recognised brand, developing products for both home and business. They are true cyber security veterans, with 30 years experience, largely specialised in antivirus and encryption, which many of their products involve.
Offering endpoint security for the Cloud, firewalls and devices, Sophos' solutions are adaptable to the needs of businesses across multiple industries, but Sophos often caters for larger businesses of up to 5000 employees.
Featured Product: Intercept X Endpoint Protection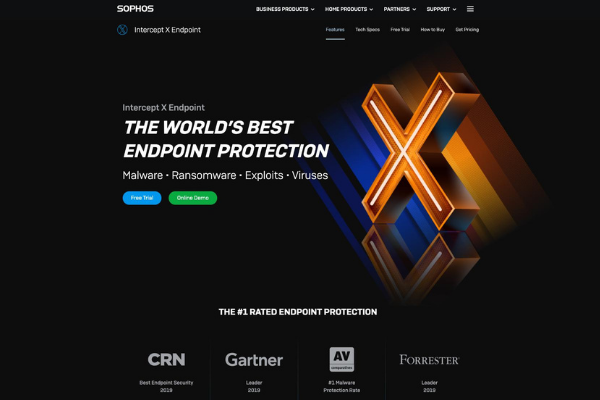 Best suited to: Small-medium sized businesses
Offerings: Cyber Essentials, endpoint protection, compliance and monitoring
Based in Bristol, Cyber Tec Security are an IASME Certification Body able to certify your company to the Cyber Essentials standard, which is a good first step if you are totally new to the world of cyber security. Cyber Tec offer a fully guided certification process which can often take as little as 24 hours. Certification proves your business meets the Five Critical Controls, reducing 80% of cyber risk and demonstrating to clients your commitment to cyber security. Through Cyber Tec, you'll also be able to achieve the Police's 'Digitally Aware' certification if you want to further your efforts.
For longer term, high-level security, Cyber Tec provide ongoing monitoring and threat detection with fully managed Compliance and SOC & SIEM solutions. While these measures are designed to be preventative, Cyber Tec also offer specialist cyber insurance so you make sure your business is prepared should you ever have to cope with the aftermath of a cyber attack.
Featured Product: Microsoft Office 365 SOC & SIEM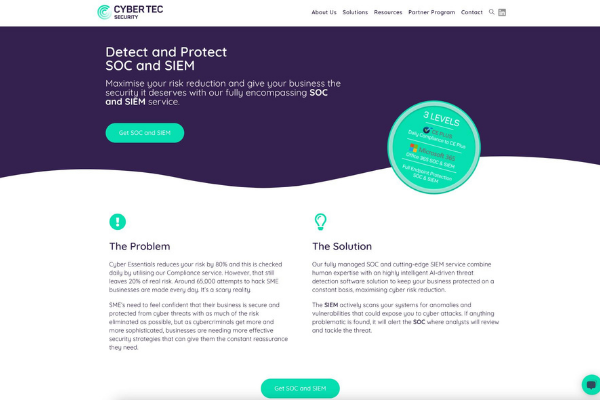 Best suited to: Government agencies, medium-large businesses
Offerings: Consulting Services, Emergency Response, Pen Testing, Compliance
BAE offer advanced defence technologies across multiple domains including airspace, maritime and cyber. BAE's security strategies are largely preventative, helping organisations manage threats before they happen.
Their cyber consulting services and solutions are largely targeted towards government agencies, but a growing number of commercial clients. The BAE strategy often involves collecting and analysing large amounts of data to inform their security practices.
Featured Product: Penetration Testing

Best suited to: Larger enterprises across multiple industries
Offerings: Consulting Services, Risk Analysis, Incident Response
Working with clients on a larger scale, PWC offers a mixture of proactive and preventative cyber security solutions. Security intelligence based services are aimed at identifying risks and advising companies on how they can grow cyber resilience, while technical solutions are focused on threat detection and incident response.
Featured Product: DevSecOps Platform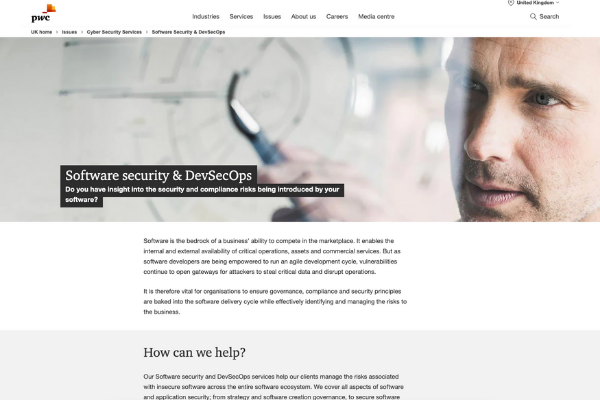 Best suited to: All businesses, from start ups to larger enterprises
Offerings: Consulting Services, Data Protection, Risk Analysis, Compliance
Ernst & Young offers a variety of professional services, with cyber security being just one of them. Their cyber teams are broken up into key focus areas: strategy, risk, compliance and resilience, to name a few.
EY helps organisations, large and small, offering guidance on data privacy and security, dealing with cyber risk, developing response plans and managing access to assets within a company.
Featured Product: Cyber Security Consulting Services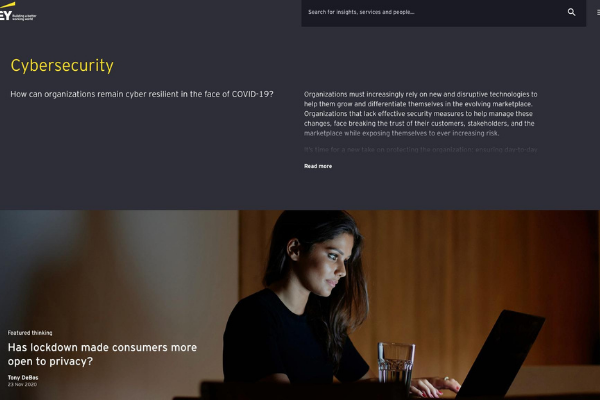 Best suited to: Government agencies, larger organisations
Offerings: Cloud Security, Email Security, Threat Visualisation and Protection
The founders of this company are a collection of mathematicians from Cambridge University and cyber experts from places like MI5 and GCHQ. They are known for their defensive AI driven technology which focuses on protecting (usually larger scale) businesses by detecting subtle threats from various sources and automating a defensive response.
The machine-learning technology marks a new approach to cyber security that will likely become the way forward for the industry in coming years. Darktrace's services are likely best suited to larger organisations and government agencies with higher cyber risk profiles.
Featured Product: Darktrace Immune System


Best suited to: Government agencies, large and small organisations within critical national infrastructure
Offerings: Managed Services, Endpoint Protection, Encryption
Specialising in secure collaboration, Becrypt provide a range of endpoint and mobile products and services. Clients include government agencies and security-conscious organisations within the critical national infrastructure.
For these kinds of businesses with an elevated level of threat, Becrypt offer services using accredited Secure Thin Client and mobile technologies that will protect both operating systems and browser and clients applications from adversaries. Becrypt's endpoint management solution, Paradox, also gives businesses a simple way to reduce threat, with breach detection and automated patch management among its key features.
Featured Product: Paradox Endpoint Management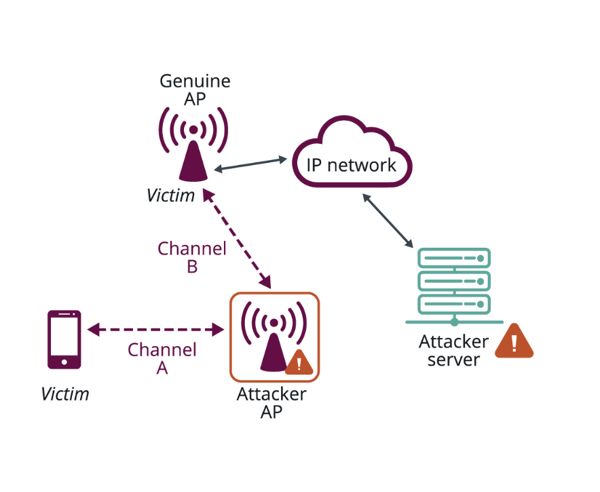 Best suited to: Larger enterprises
Offerings: Data Monitoring, Credential and Domain Monitoring, Endpoint Protection
Data security company, SentryBay has developed technology for PC, mobile, the cloud and IoT. Their enterprise software protects a business' endpoints by creating an armoured exterior to keep all applications used or connected to the enterprise safe and secure. Their solutions focus on security where data is at its most vulnerable.
Other areas of expertise for SentryBay include anti-keylogging technology, data and dark web monitoring, and identity theft prevention.
Featured Product: The Armored Client


Best suited to: All businesses, start ups to large enterprises
Offerings: API and DDoS Protection, Cloud Security, Zero Trust Security, Firewalls
While Akamai is primarily a content delivery network (CDN) dealing with enhancing performance for Web, Mobile and Media, they also offer a variety of cyber security solutions. With their Edge Security Platform, Akamai secures your content, data and applications whether internally or in the Cloud.
The suite of cyber security applications on the platform include Enterprise Threat Protector, Edge DNS, Bot Manager and Zero Trust Security.
Featured Product: Enterprise Threat Protector

---
There are cyber security companies out there to fit every purpose, from Data Loss Prevention and Endpoint Security to Consulting services and Risk intelligence.
What is clear from the range of companies here is how important cyber security continues to be for organisations whatever your size, and if it's not already, it needs to be among your top priorities. We hope this list will serve as a useful resource in your hunt for the right security solution for you and your business