Last updated January 2022
Whether you're just looking to gain an understanding of the pricing plans available or simply trying to budget for cyber security, this article should help you in your Cyber Essentials journey, as we break down the costs of getting your organisation Cyber Essentials certified.
Firstly, it's important to note that although IASME set the core pricing of the self-assessment questionnaire required to achieve certification, prices can vary depending on the Certification Body that you purchase Cyber Essentials from as most will offer their own packages to help you gain certification more easily. More on that later.
As our pricing is highly competitive within the Cyber Security industry, we will break down the pricing structure currently offered at Cyber Tec Security to give you a good idea of the best prices you can look to be getting on the market right now.
Some important points to remember:
All prices mentioned are excluding VAT
Monthly pricing plans are available
Each certification needs to be renewed after 12 months to remain certified
Certifications can often be awarded within 24 hours of assessment
You'll then receive Cyber Essentials logos for website and collateral use after achieving certification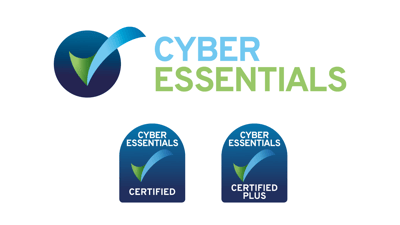 (New badges as of 2021)
Pricing Structure of Cyber Essentials
As of January 2022, the pricing structure for Cyber Essentials is tier based, with the cost depending on the size of your organisation. Organisation size is split into four categories: Micro (0-9 employees), Small (10-49 employees), Medium (50-249 employees) and Large (250+ employees).
Many Certification Bodies will offer a few different options for achieving Cyber Essentials, usually including a completely self-led option, and an expert-guided option to help you get through certification faster.
At Cyber Tec Security, we offer a couple of different guided options depending on the level of support your business might need.
Basic Cyber Essentials Self-Assessment:
If you were to complete Cyber Essentials on your own, without support from your Certification Body, prices would start from £299.99 for a micro organisation, going up to £499.99 for a large one. It's important to bear in mind that if you decide to complete the certification on your own, there is a greater chance of failing, in which case you would have to pay for the certification again.
Basic Cyber Essentials Guided (with email support):
The benefit of the guided approach is quite simple. Frankly, most companies struggle to get through the self-assessment without some technical assistance so going down the guided route can just give you additional peace of mind and guarantee you a first time pass (provided remedial guidance is implemented properly).
If you're not in a huge rush to pass Cyber Essentials, the guided option with email support may be sufficient, costing from £449.99 to £649.99.
Basic Cyber Essentials Guided (with email support):
If you're on a tight schedule and you just want to get through Cyber Essentials as quickly as possible and essentially have someone take the reins with your assessment, this guided option is preferred. One of our assessors will liaise directly with you over video call, going through your assessment via screen share until it's ready for submission. The assessor then goes away and takes care of the formalities of marking it and confirm your certification.
This guided option ranges in price from £499.99 to £699.99.
Pricing Structure of Cyber Essentials Plus
Cyber Essentials Plus is more expensive than the Cyber Essentials certification as it is the highest level standard in the Cyber Essentials scheme, showing you are doing absolutely everything in your power to protect the data of your clients. It is important to make sure you know the difference between the two certifications and which certification fits your organisation best.
However, in general, Cyber Essentials Plus is quickly becoming the de facto standard as it involves getting actual validation that your security is aligned with the relevant controls, whereas Cyber Essentials Basic is really just 'taking your word for it'.
Cyber Essentials Plus
The prices for Cyber Essentials Plus can vary even more dramatically between Certification Bodies - you'll find prices can be as high as £4000 with some.
A standard Cyber Essentials Plus assessment with Cyber Tec Security starts from £1,199.99 and you won't pay any more than £1,399.99.
Just like the basic Cyber Essentials, Cyber Essentials Plus is a point-in-time assessment, so you'll either pass or fail. Unfortunately, the majority of organisations fail on the first attempt, so it is important to take advantage of guided options where you can. This is especially the case as the scheme grows and develops. The technical updates in January 2022, for example, are some of the biggest yet, which can be overwhelming to organisations trying to tackle the certification on their own.
Cyber Essentials Plus with Pre-Assessment
With the knowledge of this, Cyber Tec introduced a Pre-Assessment option, so that any security gaps that would prevent you from successfully passing Cyber Essentials Plus could be identified and remediated before actually going into the final assessment.
The Pre-Assessment grants your organisation unlimited scans and time with our lead assessors so you can have full peace of mind that you'll pass Plus first time when it comes to assessment. The assessors will actually be in charge of your real assessment, so you know you're in good hands!
Engineers will assess your systems and process, providing an executive summary that highlights the gaps in your systems and direct technical instructions to remediate these issues.
Costs for this service option ranges from £1,949,99 to £2,149.99.
Cyber Essentials Plus One-Off Status Check
If you've already got Cyber Essentials Plus and just want to check up on your compliance during the 12 months of certification validity, you can get a status update with a one-off CE Plus check up. A representative sample will be tested against the controls and we can tell you if everything is still compliant.
These cost between £499.99 and £699.99.
Struggling to budget your cyber security?
Have a read of our handy guide.