A cyber security strategy that doesn't factor in employee cyber awareness is like a bike with no wheels - not particularly effective.
The unfortunate truth is a company's biggest weakness is usually its people. With the majority of cyber incidents caused by human error, cyber security awareness training must be a focal point of any cyber security strategy.
It can be tough for businesses to have the right resources for implementing regular training or simulating attacks to test their staff, but fear not! There are companies out there dedicated to building and delivering effective cyber security awareness training solutions to improve your workforce's cyber vigilance and reduce risk for your business.
So, if you think you might consider using these services but aren't sure where to start, we've compiled a list of the top 5 cyber security awareness training companies in the UK in this blog post.

Boxphish offer targeted phishing simulations as well as tailored cyber security courses and interactive training to help educate users on some of the biggest cyber threats out there. Although cyber security awareness training can seem arduous, Boxphish's training videos are bite sized to keep employees engaged and maximise retention.
Their automated cloud-based platform that integrates with Office 365, allows for smooth implementation and delivery so training can easily slot into working life, and with automated management reports, executives can see clear data revealing high-risk areas throughout their workforce.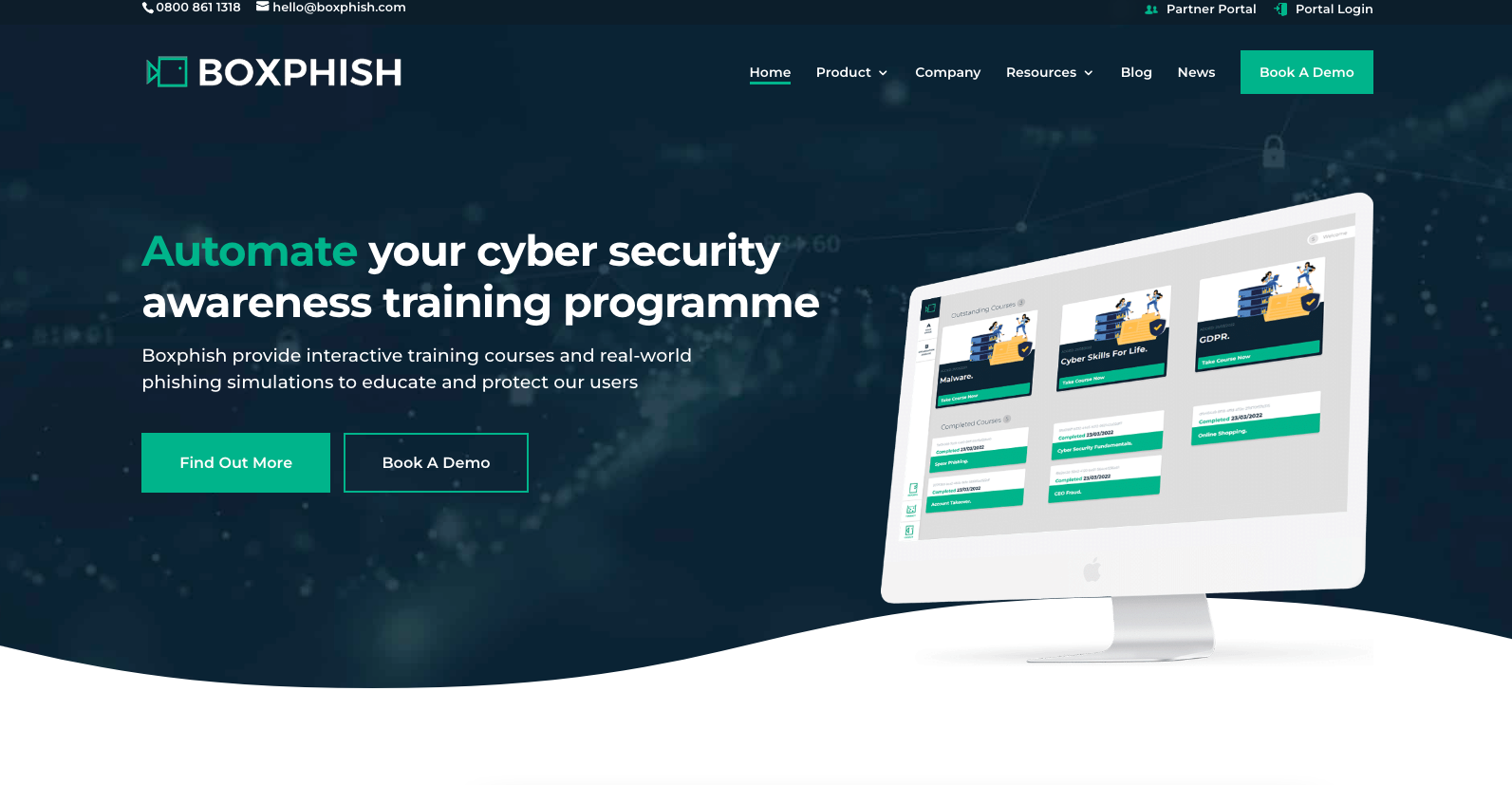 Features Include
Personal dashboards, training modules, customised learning journeys, trend analyses, Office 365 integration, phishing simulations and response tracker.

KnowBe4 are a big name in the cyber security awareness space and for good reason. Offering an ever-growing security awareness training library, with content ranging from videos and posters to interactive games, KnowBe4 have made it their mission to educate users and make sure they're prepared to tackle the ongoing social engineering threat.
Their mock social engineering attacks can be delivered via multiple channels, simulating phishing, vishing and smishing attacks, with responses informing the virtual risk officer, a functionality that helps you monitor risk over time so you know where to target training.
KnowBe4's annual subscriptions are purchased per seat, with four tiers to choose from to suit your business and budget. Discounts are also available for multi-year contracts and non-profit organisations.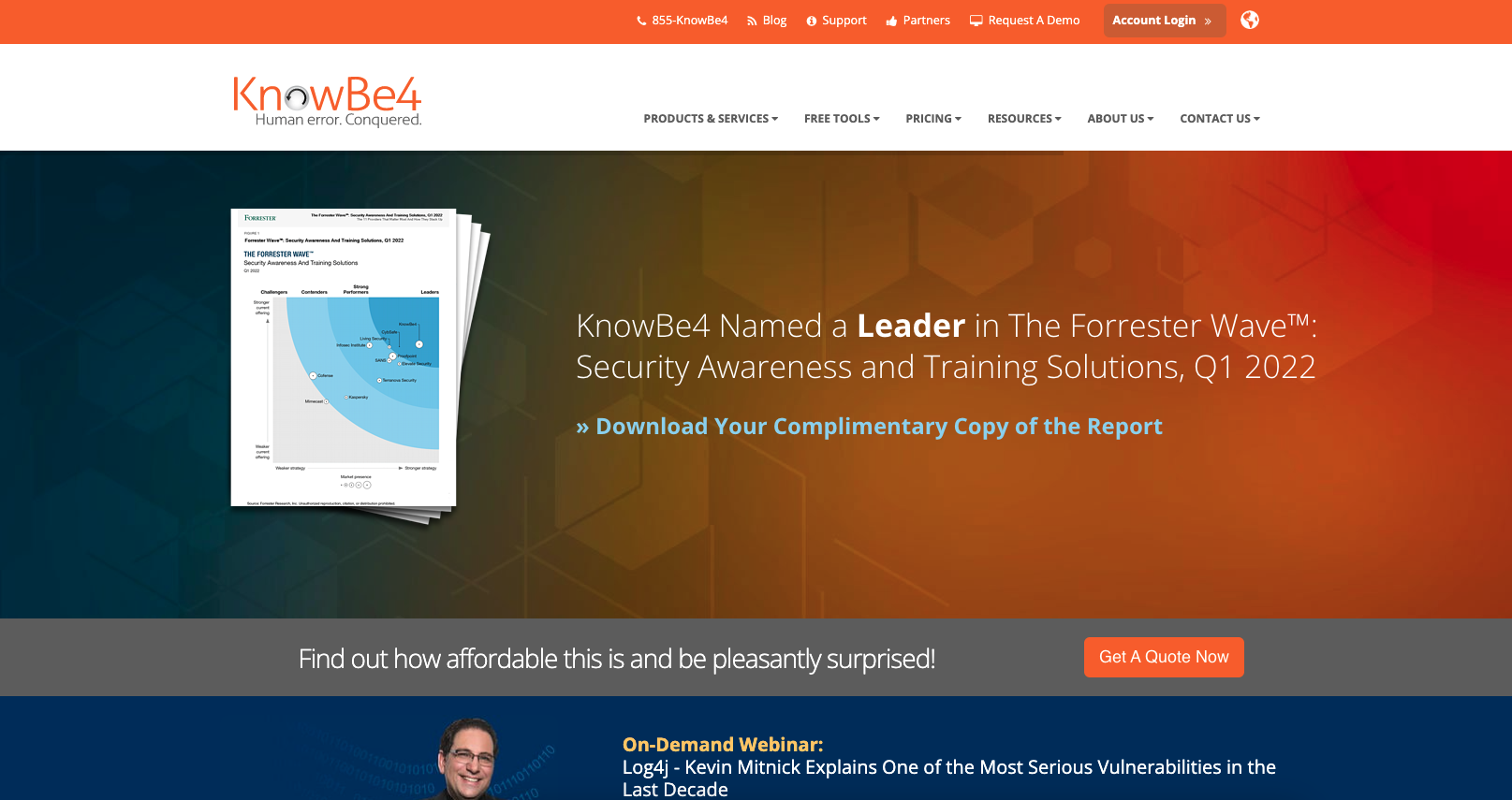 Features Include
Phishing security tests, automated training campaigns, advanced reporting, industry benchmarking

Hoxhunt's platform automatically builds tailored learning journeys for your employees based on behaviours, roles and skills and training is delivered continuously to promote a good culture of cyber security awareness among staff. Topics can also be prioritised from their library to suit business needs.
Their phishing training focuses on the individual, rewarding positive cyber security behaviours and offering in-the-moment feedback and training when errors are made.
Pricing is based on the number of employees in an organisation with additional seats purchasable as required. Access to the fully managed platform includes all training, reporting and automation, as well as incident response functionalities, allowing employees to report potential threats and have them analysed.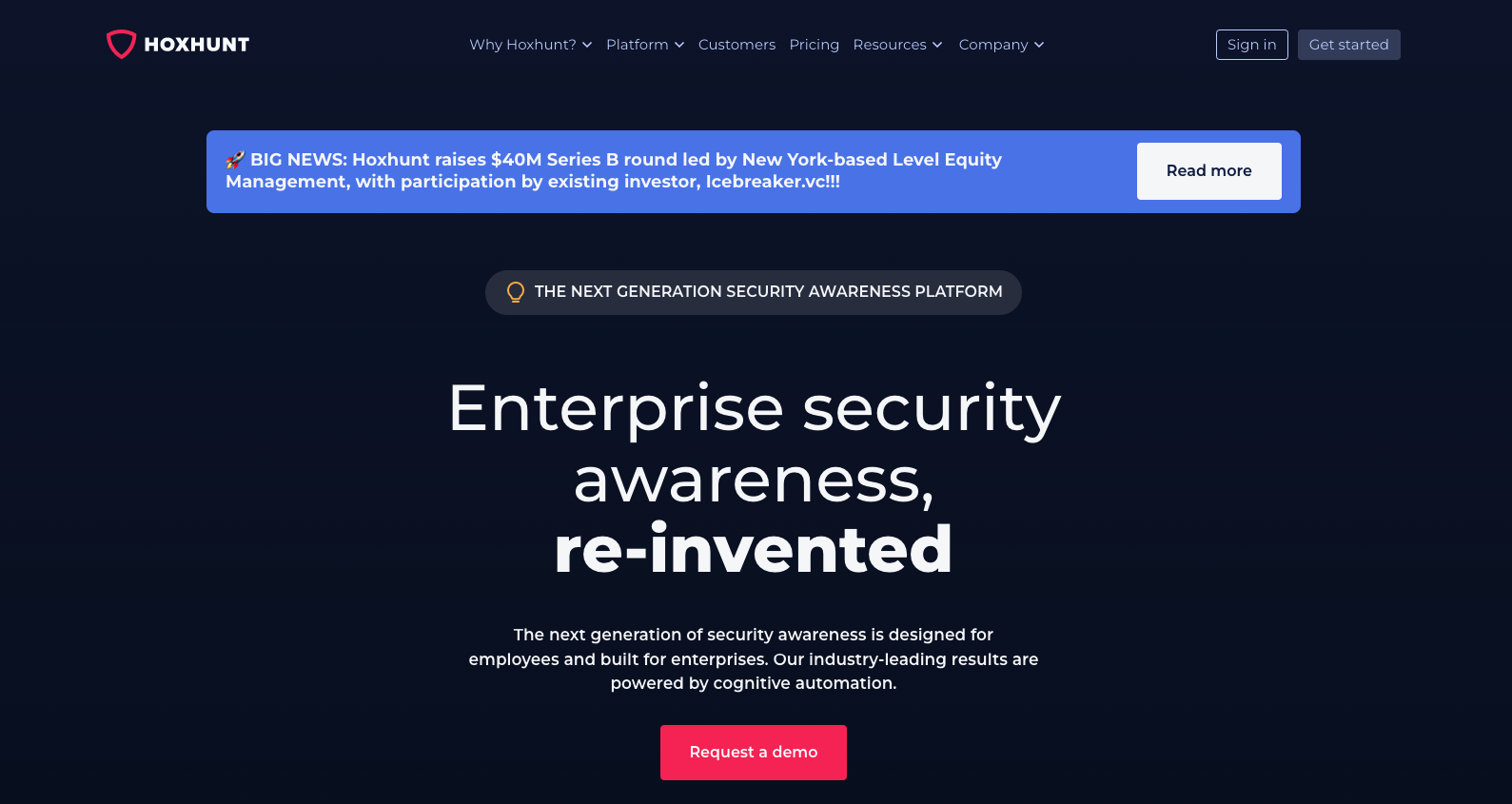 Features Include
Personalised training, bite sized e-learning, instant feedback, threat classification of user reports, threat analysts and content team

Based in Barnsley, Bob's Business focuses on creating engaging cyber security awareness training, using unique storytelling techniques to help users relate the material. They have a large course catalogue, with many courses NCSC-certified so you can be sure your learning is in line with official compliance standards.
Bob's Phishing service starts you off with their Human Vulnerability Assessment, where you'll find out where your problem areas are so a tailored training plan can be developed that will include simulated phishing campaigns and targeted e-learning.
Whether you're looking to train employees, improve security compliance or drive cultural change in your organisation, Bob's Business offers effective and affordable solutions that are definitely worth considering.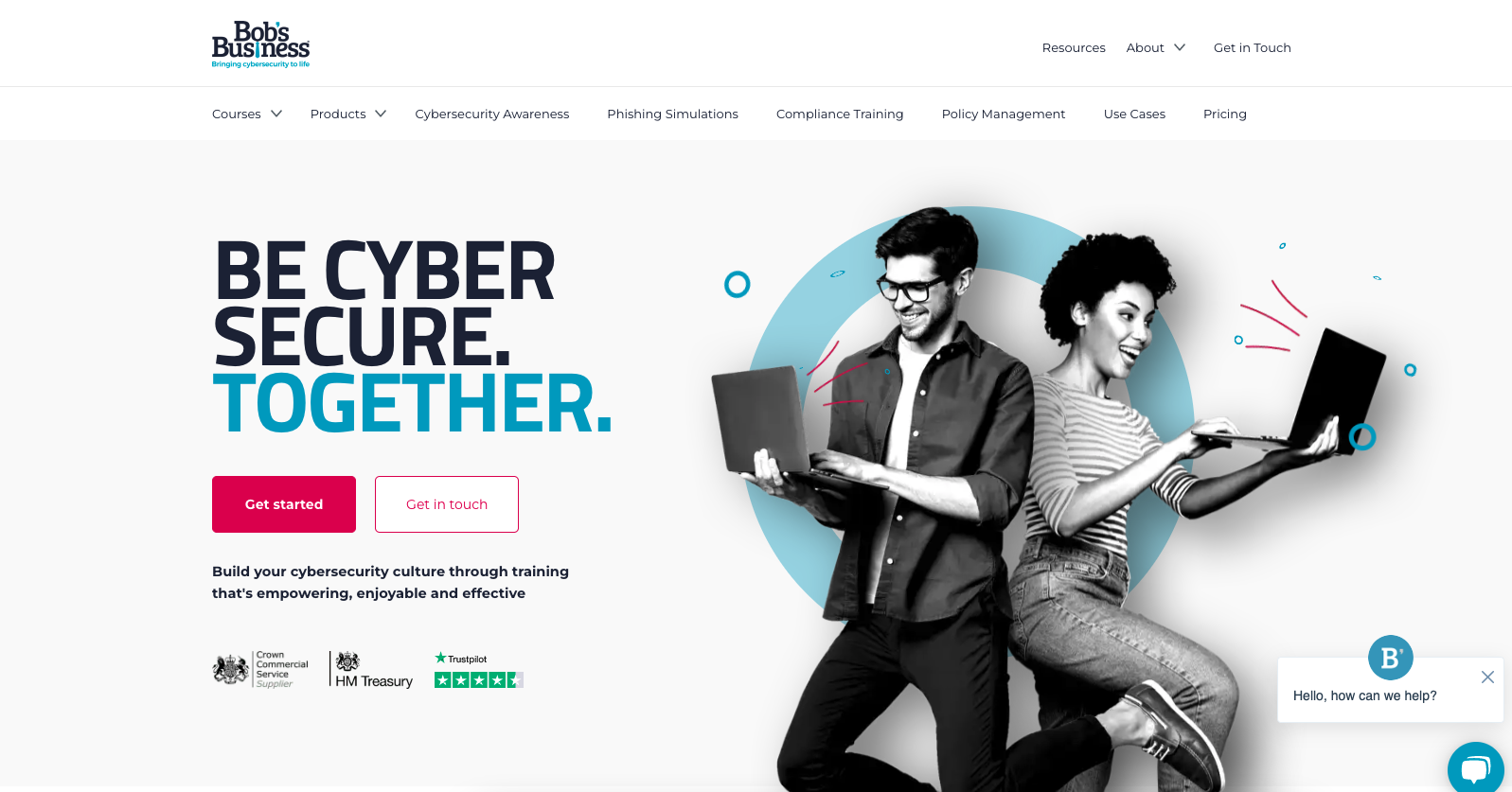 Features Include
50+ on-demand cyber security training courses, gamification, phishing awareness, campaign reports, GDPR compliance, policy management, fully branded portal

Hut Six's cyber security awareness training is delivered as a multi-year program, with each year's content building on the previous year's, aiming to slowly build up the cyber security maturity of your business. Training is varied, including interactive tasks and scenario-based tutorials, while being fully accessible to visually or hearing impaired users.
Their solution is designed to complement your business with topics freely customisable to your business requirements and existing security policies and informed reports of all user activity and risk levels accessible via the Hut Six Learning Management System.
Phishing templates are also customisable with attachments, images and user information and phishing landing pages can continue the simulated attack to test whether the user offers the 'hacker' their personal details.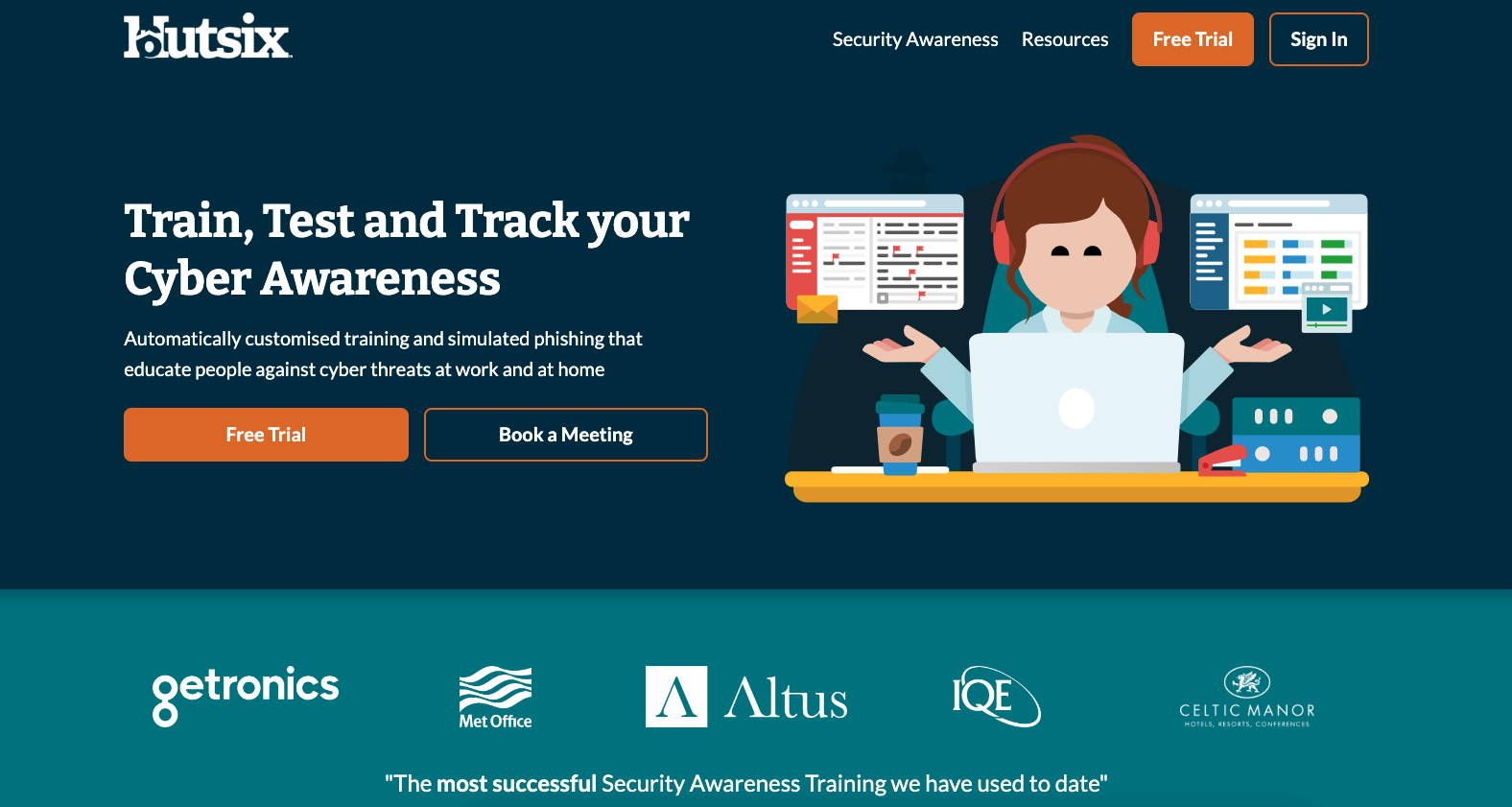 Features Include
Custom questions, Real-time reporting dashboards, multi-stage phishing attack simulations, fully accessible, customisable phishing testing through the Hut Six wizard, free 14-day trial
The human threat is going nowhere but a business' best defence is improving cyber vigilance among employees. These businesses and many others offer effective and engaging solutions to help your workforce take responsibility for their security behaviours and contribute to the overall security posture of your organisation. It's in every employee's best interest to be cyber aware - after all, their data is just as much at stake if your business is unsecure!